Fosway Group launches its annual 9-Grid™ analysis of the European market for Learning Management Systems, Authoring Tools and Bespoke Learning Solutions for 2016.

The Fosway 9-Grids™ provide a unique assessment of the principal learning and talent supply options available to organisations in EMEA.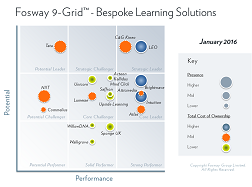 Now in its fourth year, the analysis is based on extensive independent research and insights from Fosway's Corporate Research Network of over 150 customer organisations, including BP, HSBC, PwC, RBS, Sanofi, Shell and Vodafone.

The analysis is designed to provide much needed context to organisations investing in learning technology. The 9-Grids™ uniquely capture five different levels of insight into a vendor's position in the market, highlighting their Performance, Potential, Market Presence, Total Cost of Ownership and expectations of their Future Trajectory.

'External market forces, mergers and acquisitions, new technologies, and shifting client requirements all impact suppliers of learning solutions and their ability to meet an organisation's needs' explains Fosway Group CEO, David Wilson. 'The Fosway 9-Grids™ lift the lid on the evolving – and buoyant – learning technologies market. Our aim is to help buyers select the solutions and suppliers that are the best fit for their particular challenges, including budgets, scope, functionality and importantly, customer service.'

He continues, 'The newly recalibrated Fosway 9-Grid™ for Bespoke Learning Solutions is a good example of how our analysis reflects ongoing changes in the market. We recognise that many vendors have strengthened their portfolios, moving away from pure play e-learning to a wide range of solutions, platforms and services. So the model has shifted to include more than just bespoke content creation. This is why we update the 9-Grids™ annually so that organisations can stay up-to-date and make the right decisions at their point of need.'

The latest 9-Grids™ for 2016 are freely available to download now.